SCOPE OF SERVICES AND ACTIVITIES
Unarmed Guard
- Elite Guard
- Premier Guard
Armed Guard
Nepalese Guard
Cash-in-Transit
Night Vaulting & Storage Services
Bodyguard Services
Armed Escort Services
Unarmed, Armed & Nepalese Guard
This is the Company's core business which has been its mainstay since inception in 1992. Our fully trained, reliable, trustworthy and disciplined guards provide services to hundreds of clientele ranging from domestic premises, private and commercial sectors to local authorities. The newly introduced Premier and Elite Guards has further improved our image, service quality and added value to our customers.
Bodyguards Service
Our bodyguard services provide close and personal protection services to VIPs and individuals with special needs, ensuring prevention of infringement at all points.
Escort Services
Tailored to suit our clients' specific needs, our escort services provide armed protection during transshipment of explosive items, high value security goods and consignments and etc.
Night Vaulting and Storage Services
This overnight vaulting services are available at all our branches. You can have our assurance that your monies and valuables are safe and secured in our fully insured strong rooms, pending delivery to your premise or bankers the next day.
Consultancy Services
We also provide consultancy services in all aspects of security, consistent with Government regulations in relation to physical guarding, security transport services, electronic security systems and total security management
Cash In Transit Services [C.I.T]
C.I.T services is a specifically design segment to cater for provision of cash/valuables transfer/movement to financial institutions as well as to any organizations / companies which need such high risk transaction. Each of our armoured vehicle is manned by fully armed security team, in ensuring safe delivery of consignments, besides being fully insured by reputed insurance companies.
C.I.T Team Consist of (minimum):
Signatory Officer / Armed Guard / Driver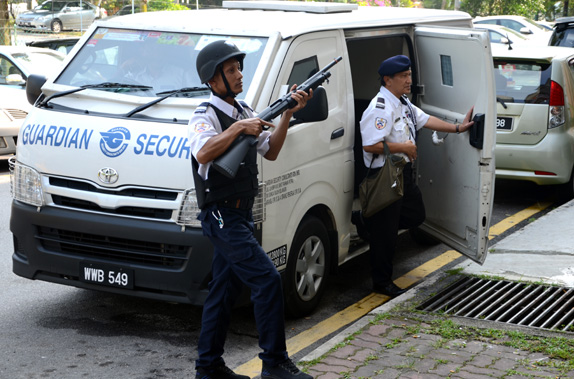 Vehicles:
Fully Armoured Vehicles under gone bullet resistance steel plate and glass screen test, equipped with internal compartment & vault central interlocking mechanism, and GPS System.