Company Profile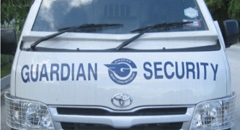 GUARDIAN Security Consultants (GSC) is a leading professional and licensed security company offering a wide variety of security services and solutions. We have a proven and established track record for service delivery, with uncompromised integrity and reliability, and providing trained personnel at competitive rates.
GSC, established in 1992, was founded on this simple philosophy - We are here to serve and help you, protect everything valuable to you.
Make Your Satisfaction Our Priority
All properties are susceptible to thefts, damage: act of vandalism, drug misuse and unauthorized access. All these are undesirable and can be costly to the owner/agent. GSC will provide a security solution to secure your business or property portfolio.
Let us Protect Your Business, Your Employees and Your Bottom Line
We don't promise to be the cheapest service but we do promise to earn your trust and confidence, performing services at reasonable rates. Just share your needs and requirements with us. We will evaluate existing precautions and provide sound solutions for professional and reliable service, based upon your specific needs.
GSC Is Committed To The Highest Standards Of Quality And Integrity In Its Products And Services.
We are committed to delivering quality security services to our customers.
We strive to continuously improve our processes and services. Our improved culture will enable our employees to be heard, make a difference, improve the quality of work life and take advantage of increased opportunities.
We have developed customised and automated systems which aims to effectively and efficiently deliver results.
You Are The Reason We Are In Business
Extensive analysis has been conducted to determine where the security industry is today and where it is heading. Sadly to note that, with the high payroll cost in security and the reluctance of companies to pay reasonable wages, the quality of security has dropped significantly. Vulnerable to minimum wages, unqualified personnel are hired.
However, we have programmes and tailor-made solutions, offering quality and well trained personnel. You see good security is not the "Rambo" image that has surfaced of late. Good security is also about good public relations. Our goal is to enhance your business with added peace of mind, not to chase your customers away. That is the foundation of our company - quality people, receiving quality training and support, to provide service that exceeds all expectations.